Promo – Me And My Girl
Under tiden Promoe var på Jamaica för att spela in musik till sitt album The Long Distance Runner spelade han in låten Me And My Girl, vilken gästas av den jamaicanska reggaeartisten Ghost och är producerad av Lloyd James Jnr., för det jamaicanska bolaget John John Records.
Denna låt släpptes, i censurerad version, på 7″-singel av John John Records 2004. På singeln är Promoes namn felstavat som Promo, trots att Promoe enligt egen utsaga både berättade den korrekta stavningen flera gånger och skrev ner den på en papperslapp. Me And My Girl är inspelade på Ngozi Riddim, vilken som brukligt på Jamaica även har spelats in på av ett flertal andra artister.
Me And My Girl återfinns även på albumet The Long Distance Runner under namnet Mah Grrrl, även här i censurerad version då filen som skickades inte var den ocensurerade versionen även om det var den som efterfrågades. Me And My Girl var den första låten som släpptes från The Long Dictance Runner men räknas inte som en officiell singel.
Hur många exemplar singeln finns pressad i är omöjligt att säga, då jamaicanska singlar oftast pressas i fler exemplar så länge de säljer bra, men enligt www.discogs.com så pressades den i 500 exemplar, något jag ställer mig ytterst tveksam till om det stämmer.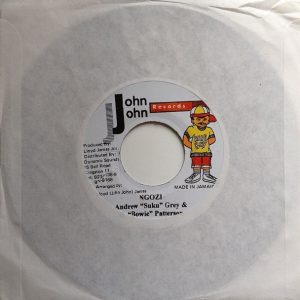 Låtlista:
Side A:
Me And My Girl
Side B:
NGOZI
–
Skulle någon av er läsare ha mer information om släppet i fråga, upptäcker någon felaktighet i texten eller av någon annan anledning vill kontakta mig går det att göra på: ernst(a)gatuslang.se
Du hittar mig även på Instagram: @ernstnordattilldet
–
Stöd Gatuslang genom att köpa en Gatuslangt-shirt här: www.wizzyclothing.com
Här hittar du mer information om andra sätt du kan stödja Gatuslang.
Du hittar även Gatuslang på följande platser:
Facebook: Gatuslang
Flattr: Gatuslang
Instagram: Gatuslang
iTunes
Soundcloud: Soundcloud
Spotify: Gatuslang
Twitter: Gatuslang