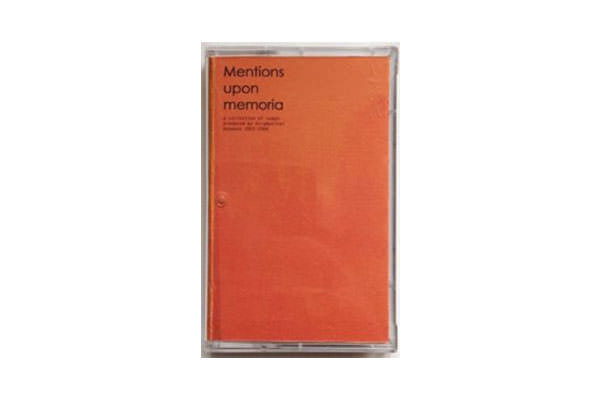 Enigmatical – Mentions upon memoria
2006 släppte Enigmatical kassetten Mentions upon memoria: a collection of songs produced by Enigmatical between 2003-2006, eller Memoria tape: Enigmatical som det står på ryggen, på egna bolaget Sving!.
Kassetten är ett Sony c60 som innehåller fjorton låtar vilka, som titeln på kassetten antyder, alla är producerade av Enigmatical, två av spåren, Music (Instrumental) och Depiction, är co-producerade av S. Park. Omslaget, vilket är tryckt på papper av hög kvalité, innehåller förutom låtlistan även en kort förklaring till varifrån de olika låtarna är tagna. Några av låtarna är tidigare osläppta och resten återfinns på tidigare releaser av de artister som medverkar. De artister som gästar kassetten är Rodan Kairos, Nadasdi, Prosperous, Misto Soon, Blizz The Devine, Peshi, Ameba och Yeshua Da poED.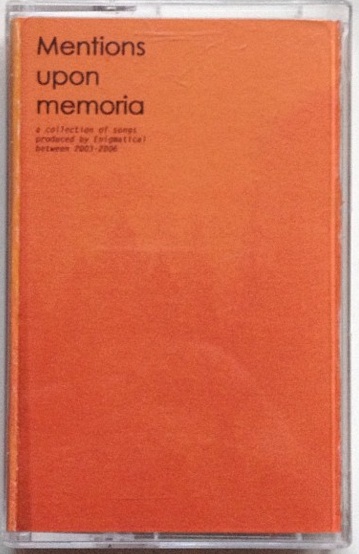 År 2012 nypressades kassetten i tjugo exemplar på vit kassett av det finska bolaget Hiss Tapes, med ett nästan identiskt omslag, lättaste sättet att se skillnad på de olika pressarna är på kassetten då papperet till omslaget på nypressen håller samma höga kvalité som på originalutgåvan.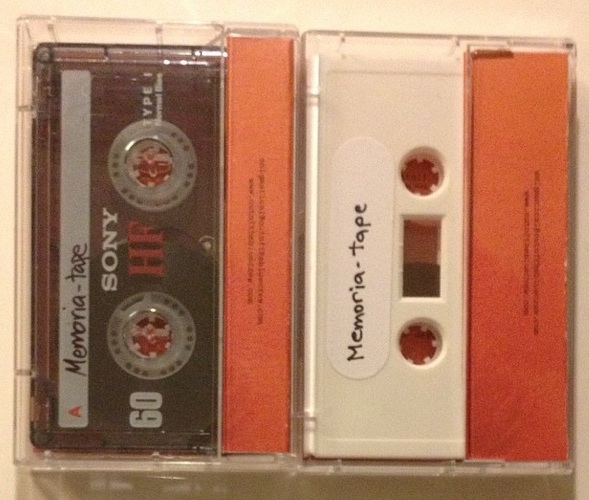 Låtlista:
Side A:
Airborne inspiration /with Rodan, Nadasdi & Prosperous
Our circles /with Nadasdi & Rodan
Face of the crowd /with Misto Soon
Impressions /with Misto Soon
Music (Instrumental)
Depiction /with Blizz The Devine
Imparing arrogance (RMX) /with Nadasdi & Rodan Kairos
Side B:
Drowning (RMX) /with Nadasdi
What a wonderful world /with Misto Soon
Dying proof /with Misto Soon
Holy host /with Misto Soon & Peshi
Another page of a daydreamers diary /with Ameba
Watch outro /with Nadasdi
Directions (RMX)
http://gatuslang.se har intervjuat Blizz The Devine och Prosperous som gästar på släppet.
–
Skulle någon av er läsare ha mer information om släppet i fråga, upptäcker någon felaktighet i texten eller av någon annan anledning vill kontakta mig går det att göra på: ernst(a)http://gatuslang.se.se
Du hittar mig även på: Instagram: ENTD_for_http://gatuslang.se
–
Stöd http://gatuslang.se genom att köpa en http://gatuslang.set-shirt här: www.wizzyclothing.com
Du hittar även http://gatuslang.se på följande platser:
Facebook: http://gatuslang.se
Flattr: http://gatuslang.se
Instagram: http://gatuslang.se
iTunes
Soundcloud: Soundcloud
Spotify: http://gatuslang.se
Twitter: http://gatuslang.se