Promoe – Long Distance Runner
Som tredje singel från Promoes album The Long Distance Runner släpptes Long Distance Runner på vinyl med bonusspåren The Hardest Working Men In Schlookbiz och In The Jungle (Remix). Intressant nog har den singeln samma katalognummer, DVSG 032, som den instrumentala versionen av albumet.
Singeln släpptes aldrig på CD men det pressades upp promotionexemplar på CD, då innehållandes Long Distance Runner i radio edit och albumversion, ingen av de extra spåren återfinns dock på promotionCDn. Long Distance Runer (Radio Edit) är inte samma version som kallas för Long Distance Runner (Single Version) på vinylversionen utan är en något nedkortad version med en speltid på 3.55, alltså ca 7 sekunder kortare än Long Distance Runner (Single Version).
Omslaget skiljer sig åt då det är en förenklad version av designen som Mattias Lundin gjorde till singlarna från albumet The Long Distance Runner. Intressant är att Mattias Lundin inte har varit inblandad alls i utformningen av omslaget, utan någon annan har använt hans design och gjort ett omslag till promotionCDn och dessutom satt hans INK Graphix logotyp på baksidan av omslaget och på CD-skivan. Ingenstans på omslaget framgår det vem det är som har designat det.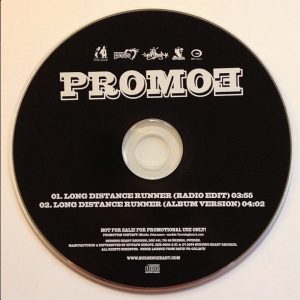 Låtlista:
Long Distance Runner (Radio Edit)
Long Distance Runner (Album Version)
–
Skulle någon av er läsare ha mer information om släppet i fråga, upptäcker någon felaktighet i texten eller av någon annan anledning vill kontakta mig går det att göra på: ernst(a)gatuslang.se
Du hittar mig även på: Instagram: ENTD_for_Gatuslang
–
Stöd Gatuslang genom att köpa en Gatuslangt-shirt här: www.wizzyclothing.com
Här hittar du mer info om hur du kan stödja Gatuslang.
Du hittar även Gatuslang på följande platser:
Facebook: Gatuslang
Flattr: Gatuslang
Instagram: Gatuslang
iTunes
Soundcloud: Soundcloud
Spotify: Gatuslang
Twitter: Gatuslang